Drive 25 miles northeast of Tucumcari, and you will find nature's get-away full of FUN!
This reservoir on the Canadian River is one of the longest lakes in the state at over 12 miles. Ute Lake boasts a variety of fun water sports. It is a popular camping destination, also. The campgrounds offer a variety of camping experiences. There are ample areas for tent camping, as well as RV camping with hook-ups. Ute Lake has a marina and full range of water sport activities. It is located near Logan, New Mexico. Park amenities include a visitors' center, group picnic shelter, a marina, restrooms, and showers. Camping facilities include 133 developed sites, many with electric hookup, and an RV dump station.
Ute Lake offers round-the-clock fishing every day of the year for angler fanatics. The lake has produced several state-record game fish. Summer temperatures range from lows around 63 to highs around 92 degrees. Winter temperatures range from lows of 25 degrees to highs around 54 degrees. 
Find your way back to family fun. That's Life, Well Played.
Found at Ute Lake, 12 Shores Golf Club offers family-friendly water activities and golf. It sits along the 13-mile-long Ute Lake. If you are looking to unplug, this is the place to do it. Vacation rentals in the area are available. 12 Shores is the perfect place to reconnect with those who matter most! As your canoe glides across the lake, you'll notice your stress floating away. This is when it will hit you: 12 Shores defines a life well played.
For more information, call (877) 224-5071 or visit our website.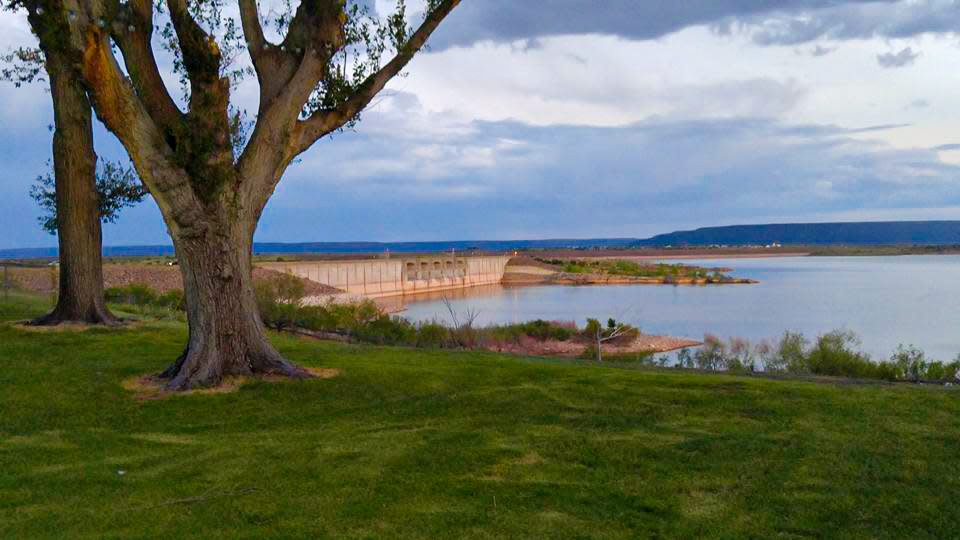 Park Superintendent
P.O. Box 976, Conchas Dam, NM 88416
Park Elevation: 4,253 ft.
Northwest of Tucumcari, Conchas Lake State Park features secluded coves, canyons, and sandy beaches. The lake, created by a large dam, is an outdoor haven. It is excellent for camping, boating, and fishing. Conchas Lake is one of New Mexico's largest lakes. It offers opportunities for exploring. The Conchas River and the Canadian River feed Conchas Lake. With miles of shoreline, there is excellent hiking and bird watching too!
Conchas is a popular site for water activities, including boating, fishing, and water skiing. The park is full-service with ample camping and picnicking facilities. It also offers boat ramps, marinas, bait & tackle supplies, food services & playgrounds! Anglers can catch walleye, largemouth bass, channel catfish, bluegill & crappie.
The Canadian River is a very long, major U.S. waterway. It flows from its headwaters near Raton Pass, NM, which is close to the border of Colorado. It flows down through east-central New Mexico, east across the Texas Panhandled and into Oklahoma. It then reaches its confluence with the Arkansas River near Fort Smith, Arkansas.
In New Mexico, the river has a navigable flow that sees limits depending on rainfall. Its major tributaries include the Vermejo, Ute, More, Conchas and Cimmaron Rivers. The geology of the Canadian River is diverse. It includes granite cliffs and canyons near Raton. As it flows near Cornudo Hills & Kiowa National Grasslands, you'll find ancient ruins. Golden and bald eagles sour high over the river valley. However, very few signs of civilization exist along the river and its tributaries.