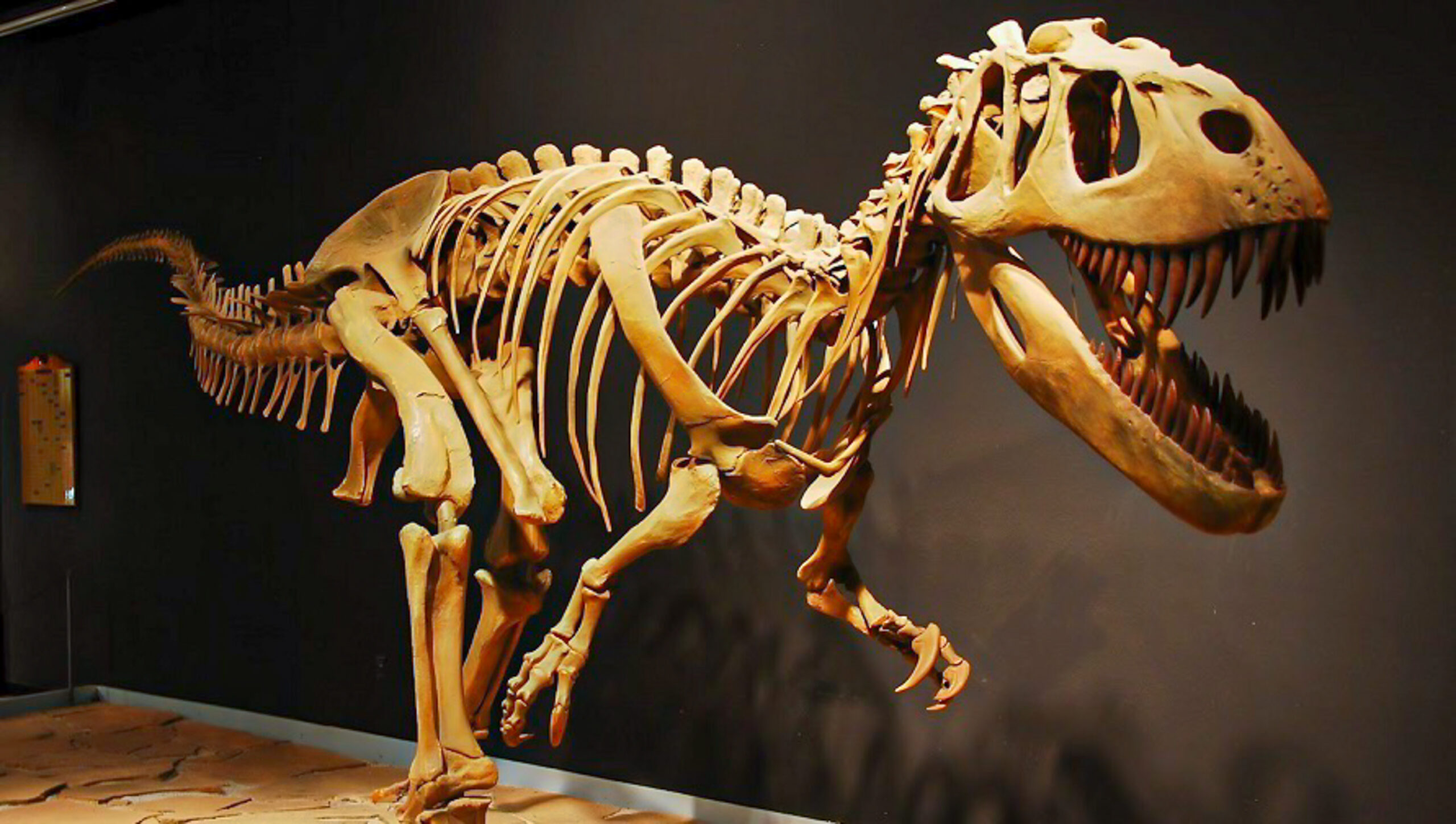 Mesalands Community College Dinosaur Museum
Hours of Operation
Summer Hours: May 15 – Labor Day
Tue-Sat from 10:00 AM – 4:00 PM (Closed for lunch from 12 PM – 1 PM)
Winter Hours: Labor Day – May 15
Tue-Sat from 10:00 AM -2:00 PM
Located at: 222 E Laughlin Ave. Tucumcari, NM 88401
Mesalands Community College's Dinosaur Museum has been open to the public since May 2000. The facility houses over 10,000 square feet of exhibit space.  Although not limited to this time span, the Museum's focus is on the Mesozoic era.  This timeframe is often called the "Age of the Dinosaurs."  This includes the Triassic, Jurassic & cretaceous periods.  The Exhibit Hall houses replicated and original fossils. These range from tiny footprint casts to the 40′ long skeleton of a Torvosaurus.  In fact, our museum was the first in the world to display a Torvosaurus skeleton. Also, within the Exhibit Hall, there is also a children's activity area. Seating is available for parents & grandparents. But, most exhibits in the museum are
child-friendly
and touchable.
The museum is home to the largest collection of bronze skeletons, fossils & replicas of prehistoric creatures in the world
!  The College's very own foundry created the bronzes.  The members of Mesalands staff and community volunteers poured the bronzes themselves. The Museum facilities are available for group tours and for hosting special events. We invite organizations and businesses to discuss their needs with Museum staff.
The Dinosaur Museum gift shop offers 1,300 square feet of retail space. Among items for sale are scientific & educational books, rocks, fossils, clothing, and more! Mesalands also has a spacious, well-equipped paleontology/geology laboratory. The lab has a large area for storage of Museum collections that are only available for study, not exhibit. Classes for natural science degree programs use the space for research. Fossils found on course field trips get sorted & prepped in our lab. We are always teaching and learning. So, we invite you to step into the Mesozoic era with us. We can explore and learn more about the dinosaurs that roamed the plains of New Mexico that we now call home.
Admission Fees
Adult (12-64): $8
Senior (65 and over): $6
Children (5-11): $4.00         Children (under 5): Free
Educators/College Students: (I.D. Required): $7
Active Military (ID Required): $7/$4 child (under 12)
Group Rate (10+): $6 Adult/$4 Child (under 12)
School Group: $6 Adult/$4 Child (under 12)
Dinosaurs 99+: Free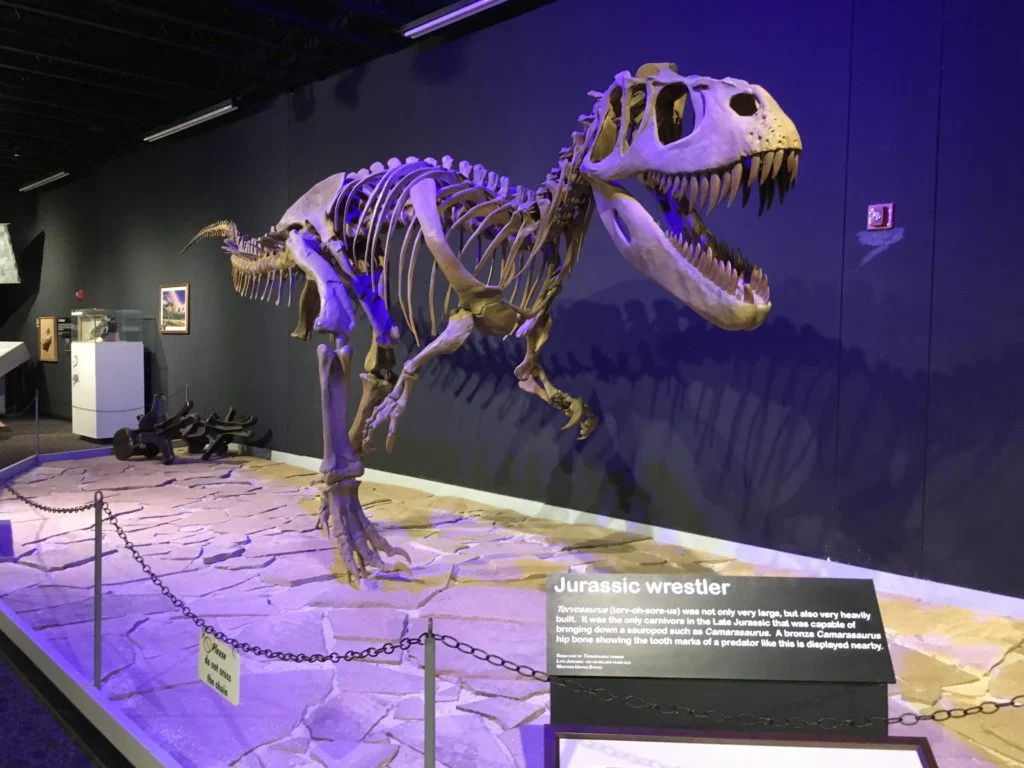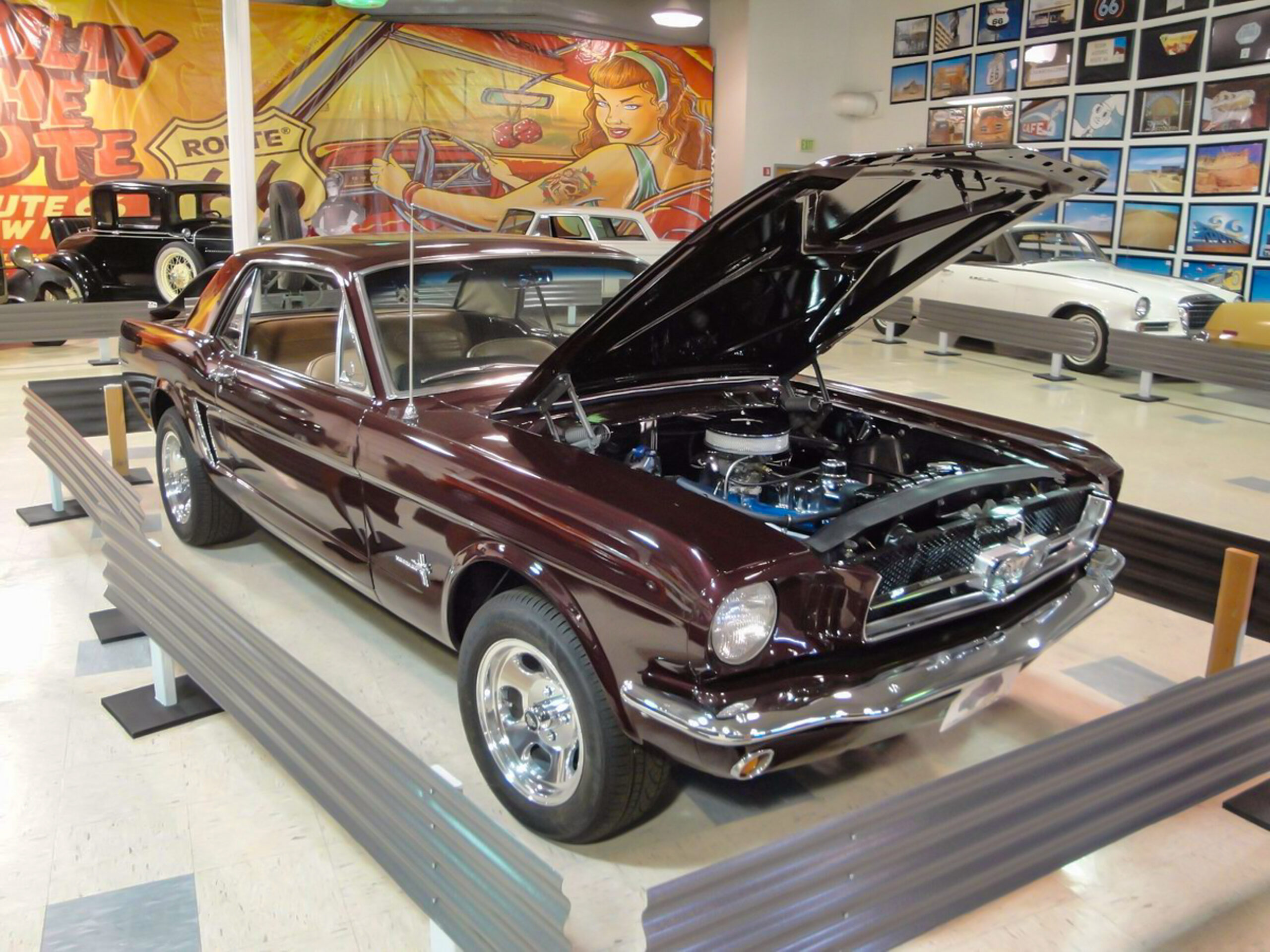 New Mexico
Route 66 Museum
Hours of Operation
Monday – Thursday
9:00 AM – 1:00 PM
Friday & Saturday
9:00 AM – 5:00 PM
Located at:1500 W Route 66 Blvd. Tucumcari, NM 88401
The New Mexico Route 66 Museum offers a unique look into New Mexico's Route 66 heritage. Our museum represents the whole Mother Road. From Glenrio to Gallup and the places between, we represent all the history of Route 66 in New Mexico! Come discover its beginning with the Ozark Trails system to today's Historic 66. We offer a unique look into the Land of Enchantment's history with this scenic byway.
Construction began on Route 66 in 1926 and was
fully
paved by the late 1930s. The highway ran from Chicago, IL to Los Angeles, CA. This created connections between hundreds of tiny towns that had never experienced travelers. Trucking took to the highway to deliver goods across the country. Route 66 was not the longest highway, nor the first, but it gained fame beyond any other road in the nation. Given the name the "Mother Road" by John Steinbeck in his popular novel,
The Grapes of Wrath.
It became a popular travel route after the book published. This highway carried thousands of people migrating to California in the Depression-era. People used Route 66 to move from the Midwest to the west coast in hopes of finding jobs and a better life.
Cyrus Avery was a businessman from Tulsa, OK. He proposed a long stretch of highway to connect Chicago and Los Angeles. The idea received approval, and thus became what we know as Route 66. Avery knew the highway would be a gateway to better things for Americans. In fact, he dubbed the highway as the "Main Street of America."
Take a ride down Route 66 at our museum!
Our museum is New Mexico's history of this iconic highway. We packed history inside our building. The museum features classic cars that date back to the 1920s! Some include a 1929 Ford Model A Sedan and a 1931 Ford Model A Coupe. Additionally, we house a 1937 Studebaker President, a 1956 Mercury Montclair & more. We have Route 66 photos, a diner display with a classic juke box, vintage gas pumps & signs, and lots of memorabilia! You can even watch a presentation packed with information about Historic Route 66.
The highway holds history for so many people.
Significantly
, this includes country music legend Merle Haggard. His family migrated to California before he was born in Bakersfield.  "Mama and Daddy were making it on a 40-acre farm they had leased…. [After the fire] it was all gone. The barn, the wagon, the plows, the cows, the horses, and Daddy's prized Model A Ford. He set out to town on foot to get himself another car…. He came back home with a '26 Chevy and a little homemade trailer bumping along behind. Merle's family gave up the lease on the 40 acres. They loaded what belongings they had in the trailer & headed west toward California."
-Merle Haggard, Sing Me Back Home: My Story (1981).
The Haggard family used Route 66 to travel, much like many other families across the nation in the 1930s and 40s.
The history of this iconic stretch of highway is something to experience. At New Mexico Route 66 Museum we have the World's Largest Route 66 Photo Exhibit. Michael Campanelli's Route 66 Photo Exhibit includes over 166 images. These images range from Chicago to Los Angeles. We've highlighted detailed history in our museum. This ensures you see a clear picture of what Route 66 offered travelers in New Mexico and beyond. We hope you'll get your kicks on Route 66 and you'll stop in to see us as you drive through!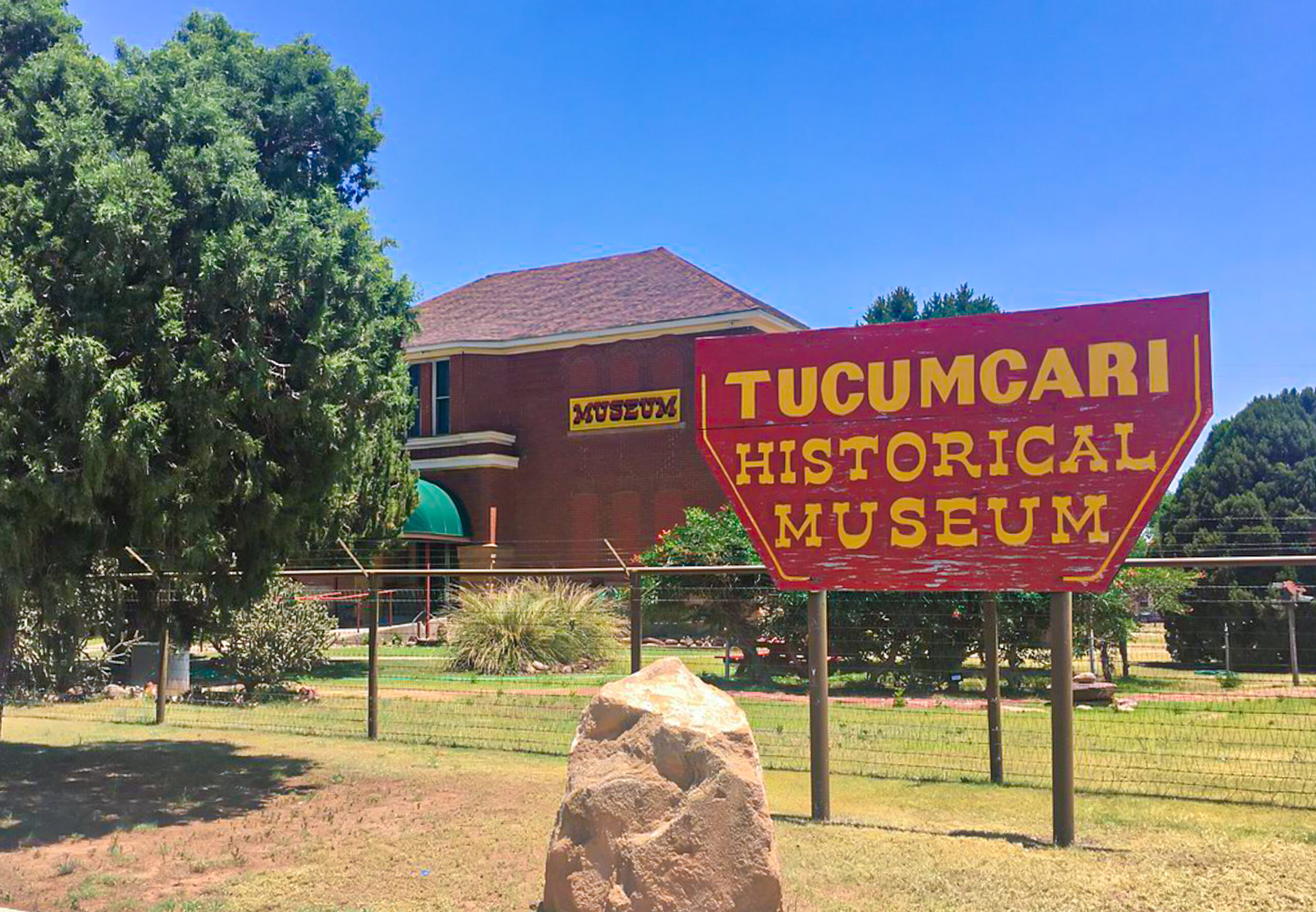 Tucumcari Historical Museum
Hours of Operation
Summer Hours
Memorial Day to Labor Day
Tuesday – Saturday
10 AM – 5 PM
Winter Hours
Labor Day – Memorial Day
Tuesday – Saturday
10 AM to 3 PM
Located at: 416 South Adams St. Tucumcari, NM 88401
Housed in our original 1903 schoolhouse, The Tucumcari Historical Museum displays artifacts & relics.  You'll find Indian artifacts dating back to 12,000 B.C. in our museum. We also have antique war memorabilia, wagons dating back to the late 1800s and more!
Our main building is three stories, and each room has a different theme full of history! We feature Wild West history of outlaws in the area. This includes "Blackjack" Thomas Ketchum. Hundreds of people visit each month, browsing the 1903 schoolhouse & outbuildings.
Our Whole Property is the Museum!
The property holds an F-100 jet plane that saw battle in the Vietnam war that you can get up close to. We have a 1926 restored fire truck used in Tucumcari. Our red barn holds wagons that traveled the dirt trails of the plains as people traveled west in the 1800s. These include a surrey, a doctor's wagon, a U.S. Army wagon & a ranch chuck wagon! Each is undergoing restoration to their original glory. Also, Tucumcari Historical Museum is home to a vintage Southern Pacific train caboose. It is open to the public, so you can go inside it. This museum is home to artifacts and relics like you've never seen.
We pride ourselves on making you feel like you're stepping back in time when you walk through our doors. The Tucumcari Historical Museum is full of treasures. We can't turn back time, but we can help you learn about those days and what they meant for our community & country. Come visit Tucumcari Historical Museum. We can't wait to meet you!
Admission Fees
Adults: $5.00
Seniors 65+: $4.00
Children 6-15: $1.00
Children under 6: Free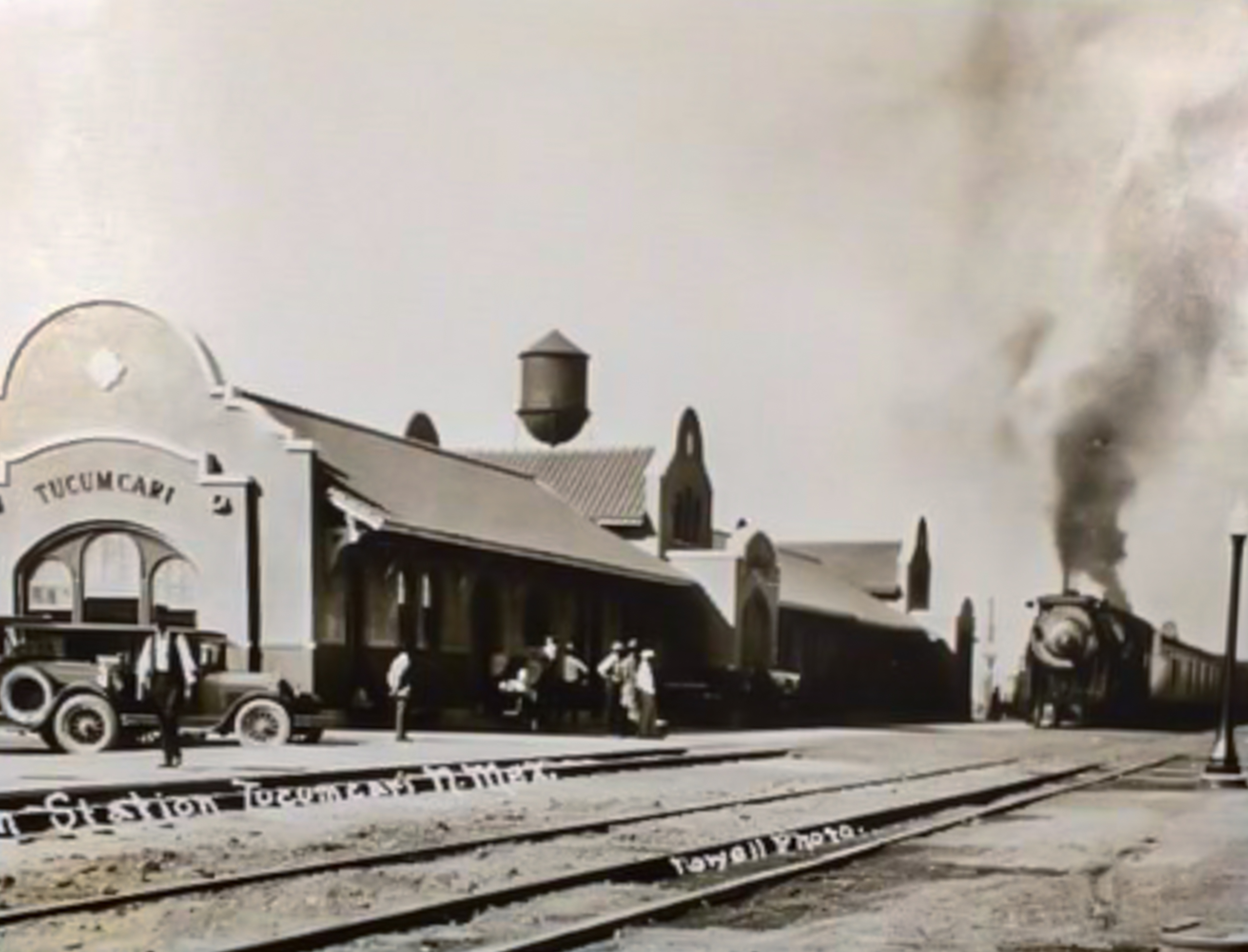 Tucumcari Railroad Museum
Hours of Operation
Wednesday – Saturday
10 AM – 4 PM
Located at: 100 W Railroad Ave. Tucumcari, NM 88401
All aboard for the fun that awaits you at the Tucumcari Railroad Museum! We invite you to visit the exhibits in the restored Union Station depot, built in 1926. The history of the railroad industry in Tucumcari runs deep. Since 1901, Tucumcari has been a popular railroad destination. The town started that year as a tent city named "Ragtown." It was a stopping point for the Chicago, Rock Island, and Union Pacific Railroads.
Seven years later, the railroad turned the tent camp into a division point. That is when Tucumcari got its official name after the nearby Tucumcari Mountain. It grew into a bustling community with a roundhouse, depot, water tower & businesses!
Tucumcari Railroad Museum got its start from the desire to share this rich history. Our museum is a place to explore the history of the railroad as it pertains to New Mexico. Experience the "rumble and roar" of passing freight trains. Enjoy being the engineer of a GP-38 diesel on our train simulator. It has a real hands-on control stand so you're driving the train! When you come see us, you will discover the Southern Pacific & Rock Island railroad. We invite you to learn about the people who built the railroad into the industry it is today.
Admission Fees
4 & Under: Free 
5 to 12: $2
Age 13+: $4 
Senior Discount (60+): $3
Active Duty Military: Free